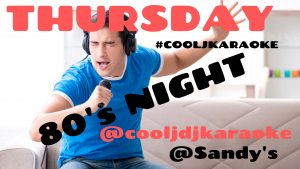 Sitting at Sandy's in Lincoln taking a well-deserved night off and listening to other people sing and sending out messages to brides and grooms about upcoming weddings and updating my website and thought hey…….now would be a great time to come up with the Top 20 80's Songs designed to win over a karaoke crowd on a Thursday night bar!  HERE GOES!!  Jay's Top 20!
1/  Don't Stop Believing  ~  Journey
2/  Africa  ~  Toto
3/  I Love Rock & Roll  ~  Joan Jett & the Blackhearts
4/  Another One Bites the Dust  ~  Queen
5/  Take On Me  ~  A-Ha
6/  I Wanna Dance With Somebody  ~  Whitney Houston
7/  Livin on a Prayer  ~  Bon Jovi
8/  Love Shack  ~  B-52's
9/  Pour Some Sugar On Me  ~  Def Leppard
10/  867-5309  ~  Tommy Tutone
11/  Love Is A Battlefield  ~  Pat Benatar
12/  Billie Jean  ~  Michael Jackson
13/  Hit Me With Your Best Shot  ~  Pat Benatar
14/  Any Way You Want It  ~  Journey
15/  What's Love Got To Do With It  ~  Tina Turner
16/  Girls Just Wanna Have Fun  ~  Cyndi Lauper
17/  Addicted to Love  ~  Robert Palmer
18/  Faith  ~  George Michael
19/  Black Velvet  ~  Alannah Myles
20/  Careless Whisper  ~  Wham
also getting votes!!
And She Was/Talking Heads
Your Love/Outfield
Funky Cold Medina/Tone Loc
Keep Your Hands To Yourself/Georgia Satellites
Jack & Diane/John Cougar Mellencamp
Anything by Van Halen!
Anything Later Aerosmith!
Hope this helps!!  It's Nebraska…..80's Night usually turns into Country Night at some point during the night!